A monthly letter from Orbis Books Publisher, Robert Ellsberg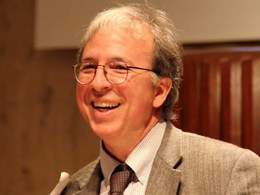 Of all the books I have read from Pope Francis, among my favorites is our new With the Smell of the Sheep, his addresses to "priests, bishops, and other shepherds." Although these collected talks are directed at the clergy—from seminarians to cardinals—they are really addressed to anyone interested in the pope's vision of the church. Speaking with affection and humor, sometimes with sadness (as when he discusses clergy sex abuse), and sometimes with prophetic chiding (as when he confronts the "diseases" of the curia), the pope describes the joys and challenges of all those called to serve the People of God. Confiding personal stories from his own ministry and warning against the sins of "self-referentiality," "clericalism, careerism, and worldliness," he stresses the importance of mercy, of drawing strength from prayer and intimacy with the heart of the Good Shepherd.

In Vesper Time, Frank Cunningham, the long-time publisher of Ave Maria Press, has written a beautiful book that teaches us how to find the spiritual lessons of ordinary life—in particular, the "spiritual practice of growing older." With grace, wisdom, and tenderness, he describes how we may find the implicit spiritual disciplines inherent in aging—in memory, in intimacy, in the experience of diminishment, and in the spirit of gratitude and acceptance. As Frank says, "Vesper Time addresses the yearning among elders for continued growth, expansiveness of heart, improvement of mind, and a meaningful understanding of our lives. It offers an antidote to the all too familiar time-of-life question, 'Is that all there is?'"

Though the year is still new, already Orbis titles are receiving awards. They begin this season with the Illumination Awards. We have winners in four categories: A Gold Medal in Biography for Jim Forest's The Root of War is Fear: Thomas Merton's Advice to Peacemakers; a Gold Medal for Catholic Books for Pope Francis's I Believe, his commentary on the Apostle's Creed; a Silver Medal for Theology for A Harvey Cox Reader (an homage to my former professor at Harvard Divinity School); and a Bronze Medal for "Christian Living," to John Neafsey for Act Justly, Love Tenderly, a reflection on how the task of living our human vocation is achieved in all the stages of life.

With congratulations to our authors, and gratitude for your ongoing support,

Robert Ellsberg
Publisher

Reading Groups: Save 35% when you order 5 or more copies!